Dr Emma Ransome; PI
Emma is a Lecturer at Imperial College London, based in the Department of Life Sciences at Silwood Park. She completed her PhD on the effects of global change on coral-microbe associations at Plymouth Marine Laboratory (and the University of Plymouth), UK, in 2013. Emma then moved to the Smithsonian National Museum of Natural History in Washington DC, USA for her first postdoctoral position, where she worked on the biodiversity and biogeography of cryptic reef communities across the Pacific. In 2016 she returned to the UK to take a postdoctoral positon at Imperial College London investigating the effects of global warming on freshwater microbes. This led to a Researcher Co-Investigator role on the NERC grant "A novel framework for predicting emerging chemical stressor impacts in complex ecosystems", in 2019. Emma started her lectureship at Imperial College London in January 2020.
Margaux Steyaert; Postdoc
Margaux is researching the diversity and drivers of coral reef benthic communities in an exciting international project run by the Ransome lab, called FutureReef. She has just finished her PhD at the University of Oxford (2023). Margaux graduated with a Bachelors in Zoology and a Masters in Ecology, Evolution and Conservation from Imperial College London in 2017. For her PhD, she used artificial reef devices to collect genetic samples and images of cryptobenthic organisms, with the aim to increase our knowledge of these under-studied communities. A keen scuba-diver, she has experience working in remote field locations but also enjoys mountain sports such as trekking, skiing and climbing.
Jake Williams; PhD student
Jake is researching holobiont responses to stress on Pacific coral reefs using next-generation biomonitoring techniques (metabarcoding and metabolomics). He is based at Imperial College London and is funded by the Quantitative Methods in Ecology and Evolution Center for Doctoral Training (QMEE CDT). Jake graduated with a BSc in Politics, Philosophy and Economics from the University of York and a MSc in Biodiversity, Conservation and Management from the University of Oxford. He has worked in the private sector as a biodiversity consultant and in the public sector as a government economist at HM Treasury. More recently he co-led conservation design and impact evaluation for Conservation and Policy at the Zoological Society of London (ZSL). His central research interest is how to improve ecosystem governance, a question to which he brings his diverse experience across economics, science and conservation. Jake is a keen trail runner. Jake is co-supervised by Dr Nathalie Pettorelli (ZSL) and Dr Chris Meyer (Smithsonian NMNH).
Rosie Dowell; PhD student
Rosie is on the Science and Solutions for a Changing Planet DTP with NatureMetrics as a CASE partner and is based at based at Imperial College London and the Institute of Zoology (ZSL). Her research focusses on developing and applying environmental DNA (eDNA) methods to assess biodiversity patterns and drivers in the Chagos Archipelago, Western Indian Ocean. Rosie graduated from the University of Glasgow with and MSci in marine and freshwater biology (2019). This included a work placement year at Bermuda Institute of Ocean sciences where Rosie used BRUVS and eDNA to study mesophotic reefs. As a relatively new and fast paced field, she is interested in applying eDNA metabarcoding methods to uncover diversity in difficult to study ecosystems and contribute to our understanding of the intricacies and applications of molecular methods in biodiversity monitoring. Rosie is a keen swimmer and scuba diver who also loves exploring the food scene in London and baking on the weekends. Rosie is co-supervised by Dr Catherine Head and Dr Chris Yesson (ZSL).
Yilan Aolei; Research Assistant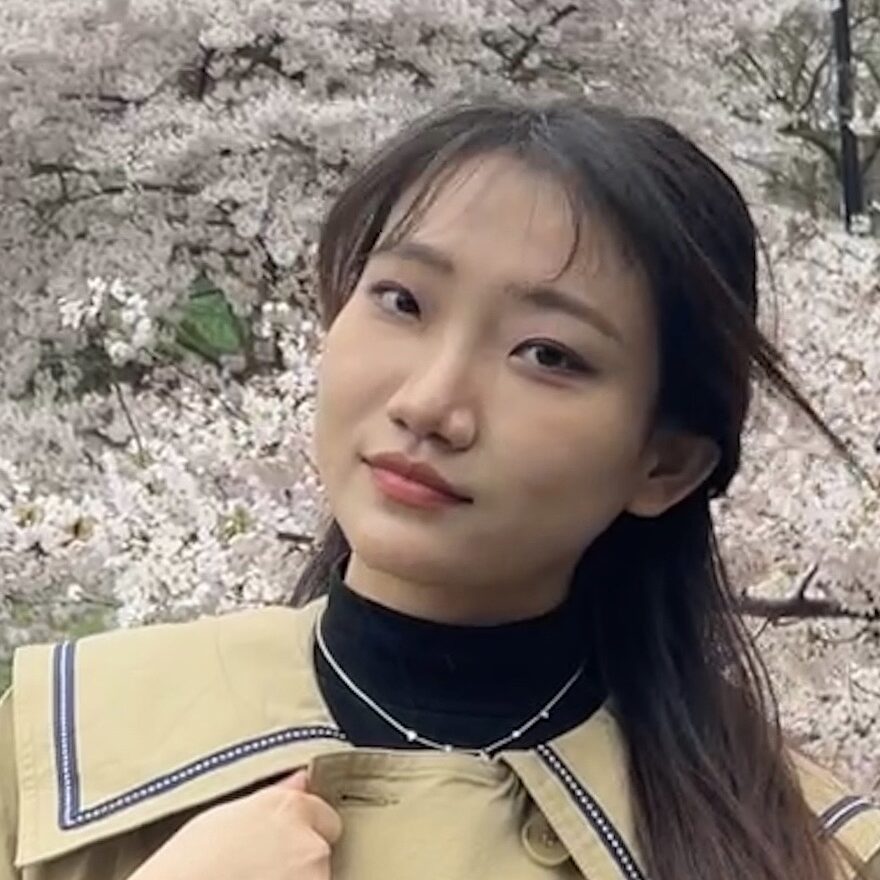 Yilan is researching phage ecology, in particular the effect of environmental stressors on virus persistence and bacteriophage interactions. Yilan graduated with a Bachelors in Marine Environmental Science in the Ocean University of China, and a MSc in Ecology, Evolution and Conservation from Imperial College London in 2023. Yilan is always dreaming of a life studying science around the world!
Lab alumni
Laura Bachmaier; Research Assistant
Laura was researching blue carbon dynamics in seagrass ecosystems with a focus on high carbon sites along the UK coast. This work was supported by Ocean Conservation Trust and an Imperial College FSRF grant. Laura was a recent MSc graduate from Imperial College London's Ecology, Evolution and Conservation course and has now started a PhD at the University of Plymouth.
Faye Hobbs; Technician
Faye was researching coronaviruses and bacteriophage, in particular the effect of environmental stressors on virus persistence and bacteriophage interactions. She was based at Imperial College London and obtained her bachelor's degree in Biochemistry at the University of Surrey in 2020.
Dr Scott Jones; Postdoc
Scott is a virologist with a particular interest in genetic variation and viral detection. He has a PhD from the University of Nottingham and a Masters from the Royal Veterinary College, University of London. Scott's work involved testing novel methods for pathogen detection in wastewater funded through an Innovate UK grant.
Dr Tom Smith; Postdoc
Tom is a microbial ecologist, broadly interested in how organisms, populations and communities respond and adapt to changing environments. Please find more details on his webpage here. Tom's work involved investigating the potential of temperate seagrass beds as a carbon offsetting tool (private funding).